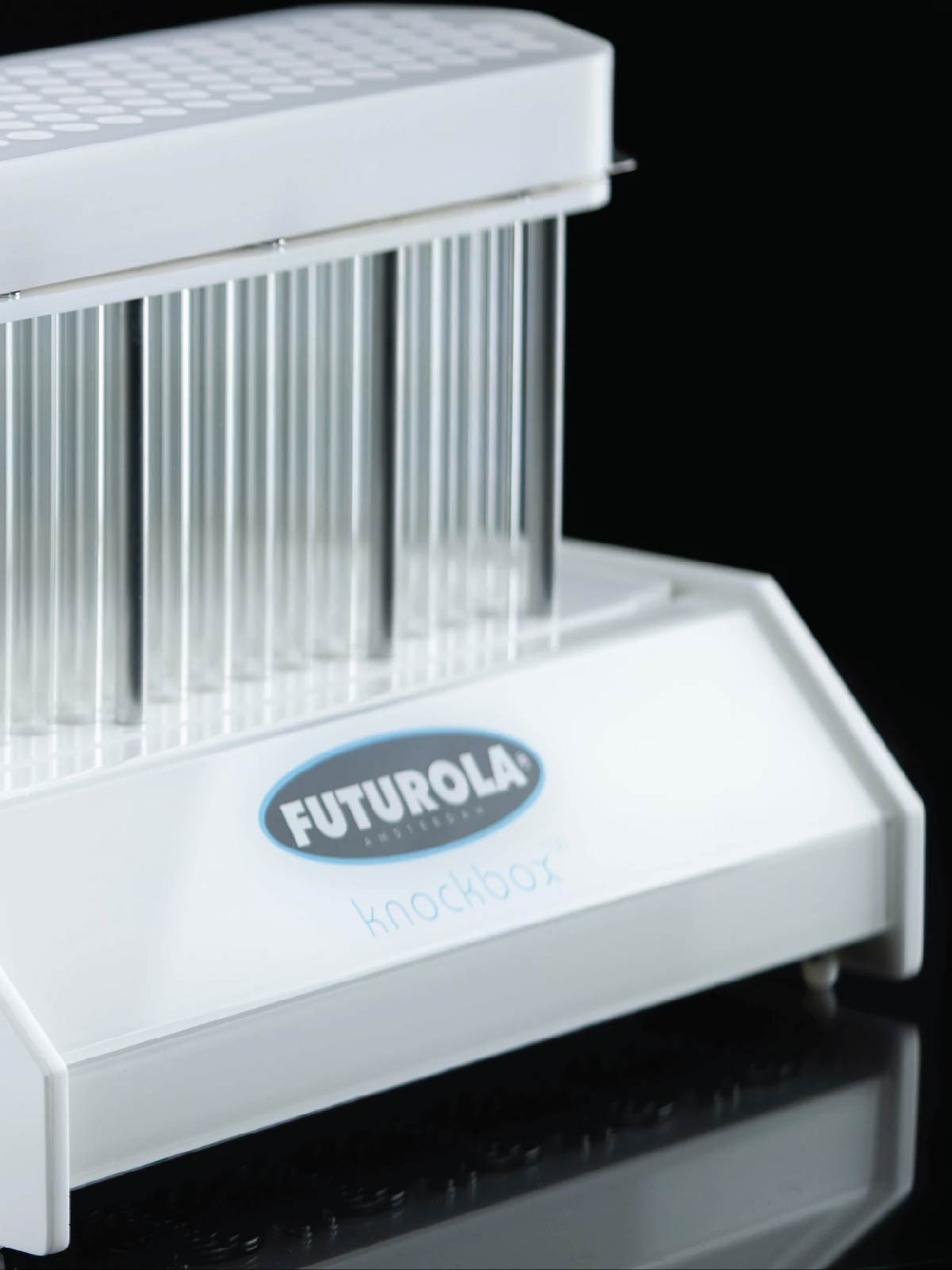 INTRODUCING THE REVOLUTIONARY
KNOCKBOX SERIES
Home of the Futurola Knockbox automatic cone filling machine infamously known for ever changing the way our industry produces pre-rolled cones professionally and at bulk. The Knockbox Series is available in three different base options with the capacity to fill 50, 100, or 300 cones simultaneously.
Knockbox Series
EFFORTLESSLY FILL YOUR PRE-ROLLED CONES IN SECONDS 
Futurola pre-rolled cones are loaded into the Cone Loader, which is then placed on top of the Flling Kit. Load your material into the Mix Tray, turn on the Knockbox with the controller,  and pull the metal slat to release your material into the cones and watch them get filled in just seconds! Our Knockbox Machines have been used all over the world to quickly load our artisanal pre-rolled cones with healing herbs and medicines. 
SHOP THE REVOLUTIONARY
knockbox series
Embrace the future of pre-rolled cone production with the Futurola Knockbox Series. Elevate your business to new heights of efficiency, precision, and quality. Say goodbye to manual rolling and welcome a streamlined, automated system that revolutionizes your cone manufacturing process. View our complete line of efficient pre-roll production products! Choose from our many Knockbox Base + Filling Device options, and boost productivity with some of our other useful attachments to start maximizing your volumes today.
View All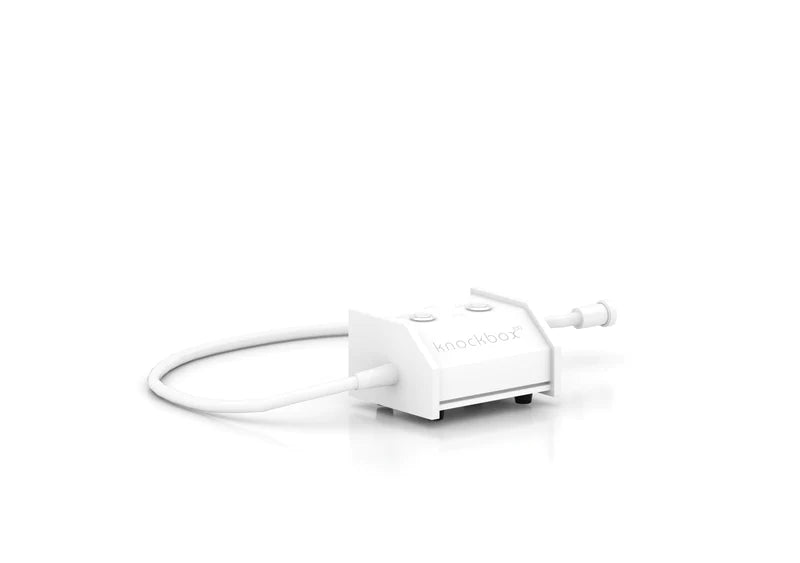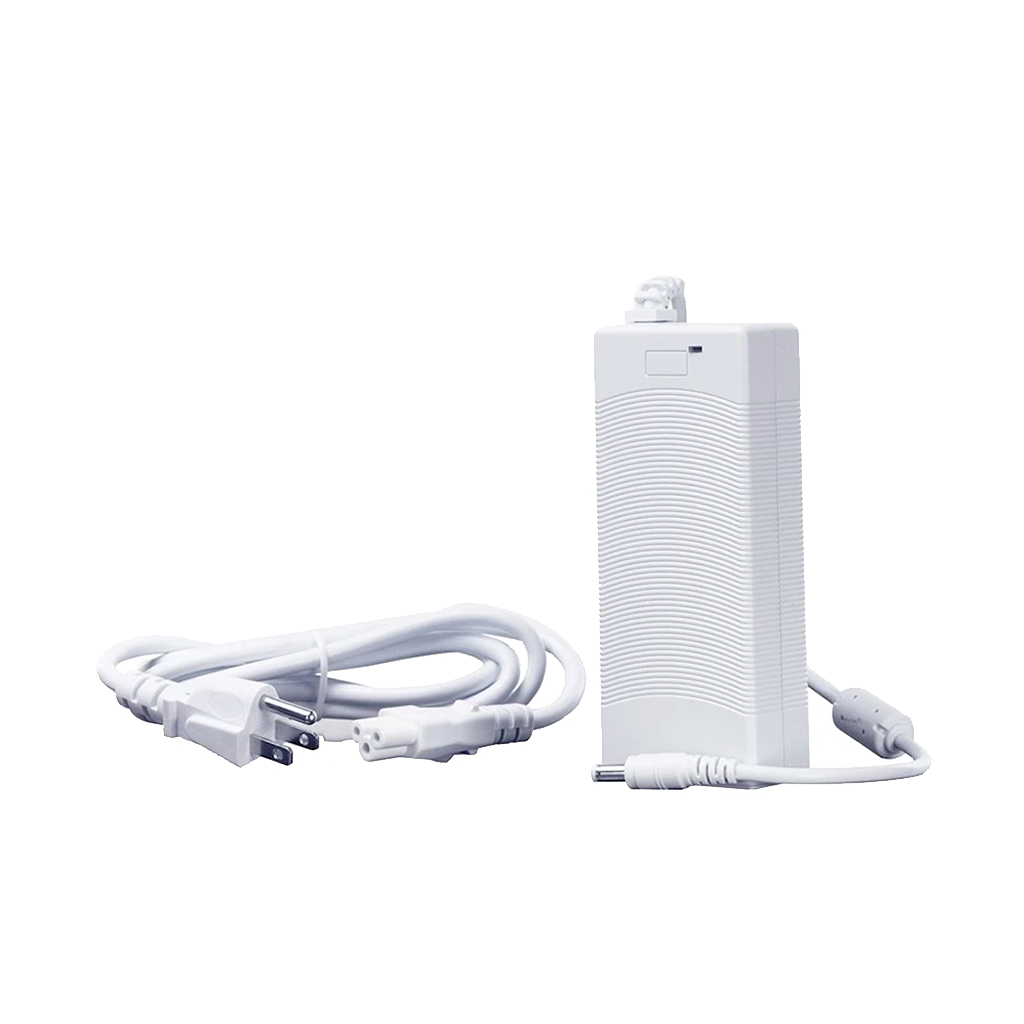 COMPARE + CONTRAST
KNOCKBOX SERIES
CLOSE YOUR CONES IN SECONDS
DUTCH CROWN DEVICE
Our latest product added to the collection of attachments for the revolutionary Knockbox Series helps you close your open-ended pre-rolled cones efficiently.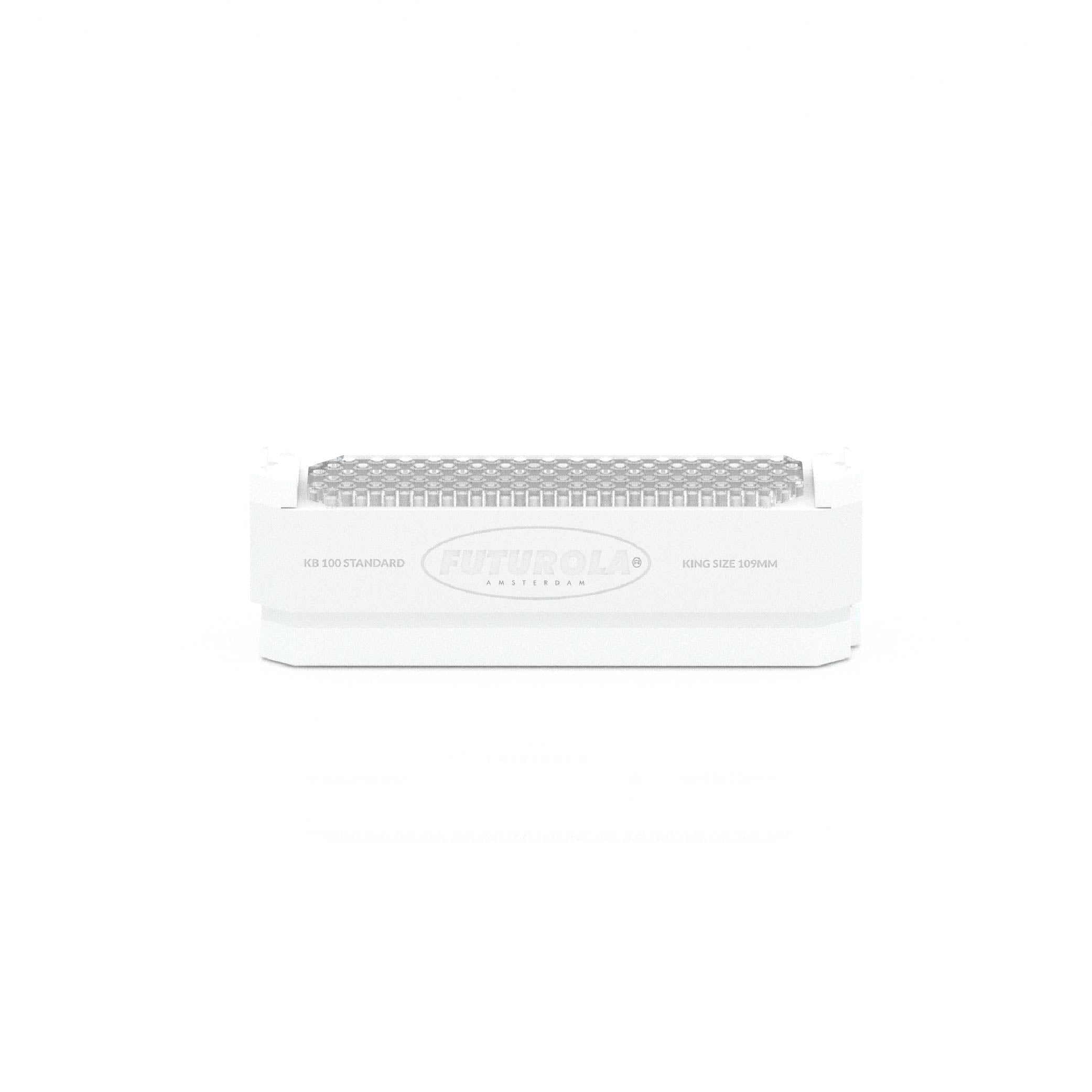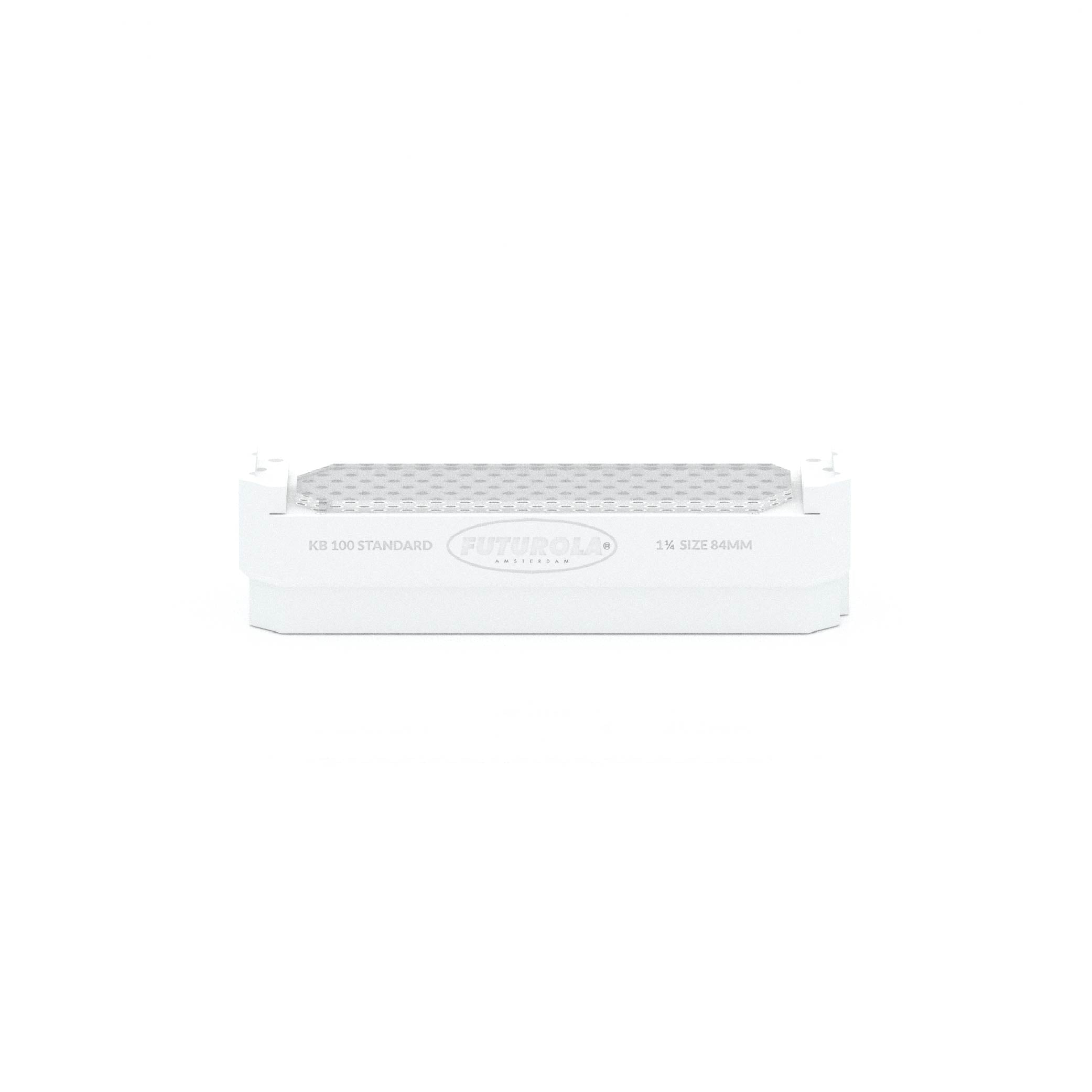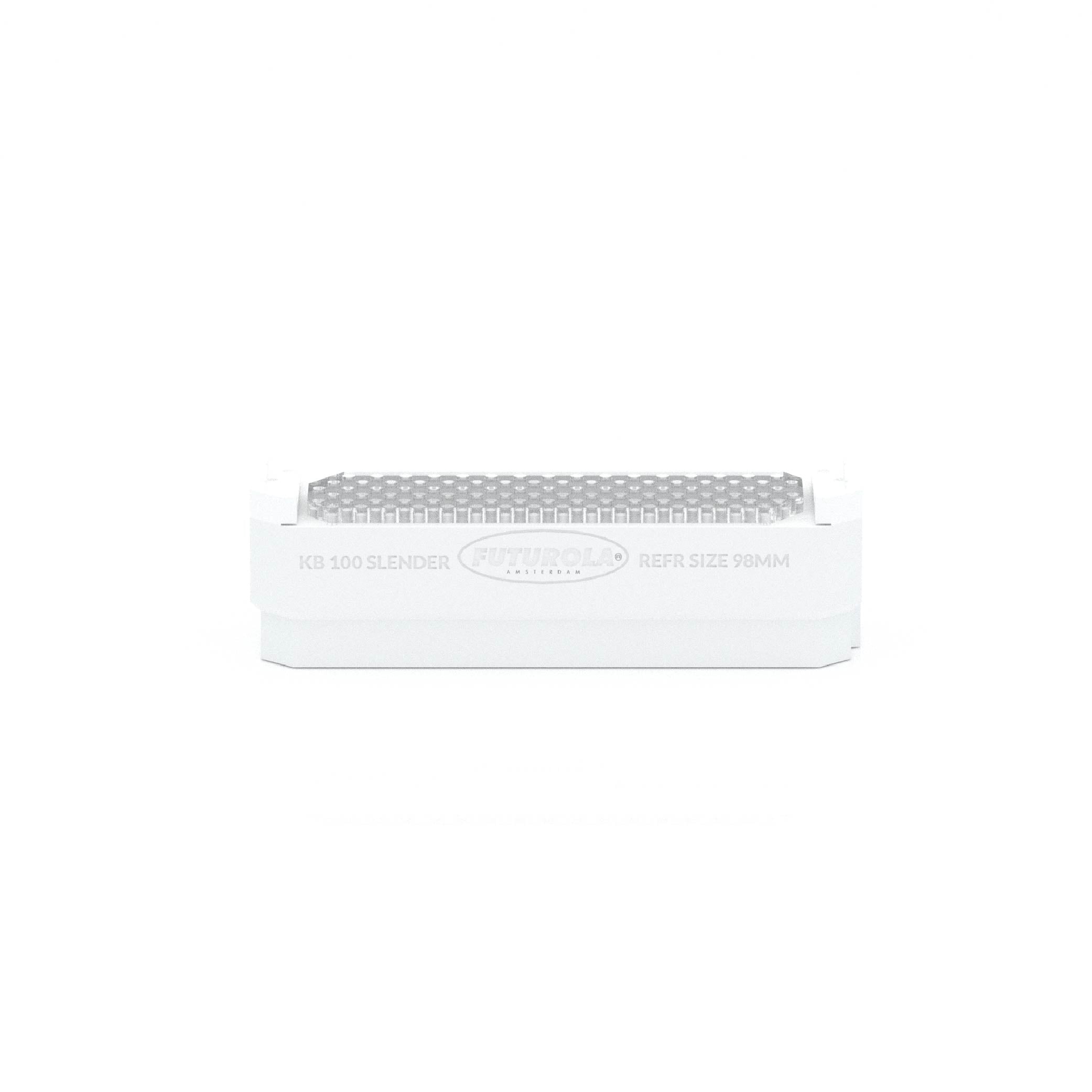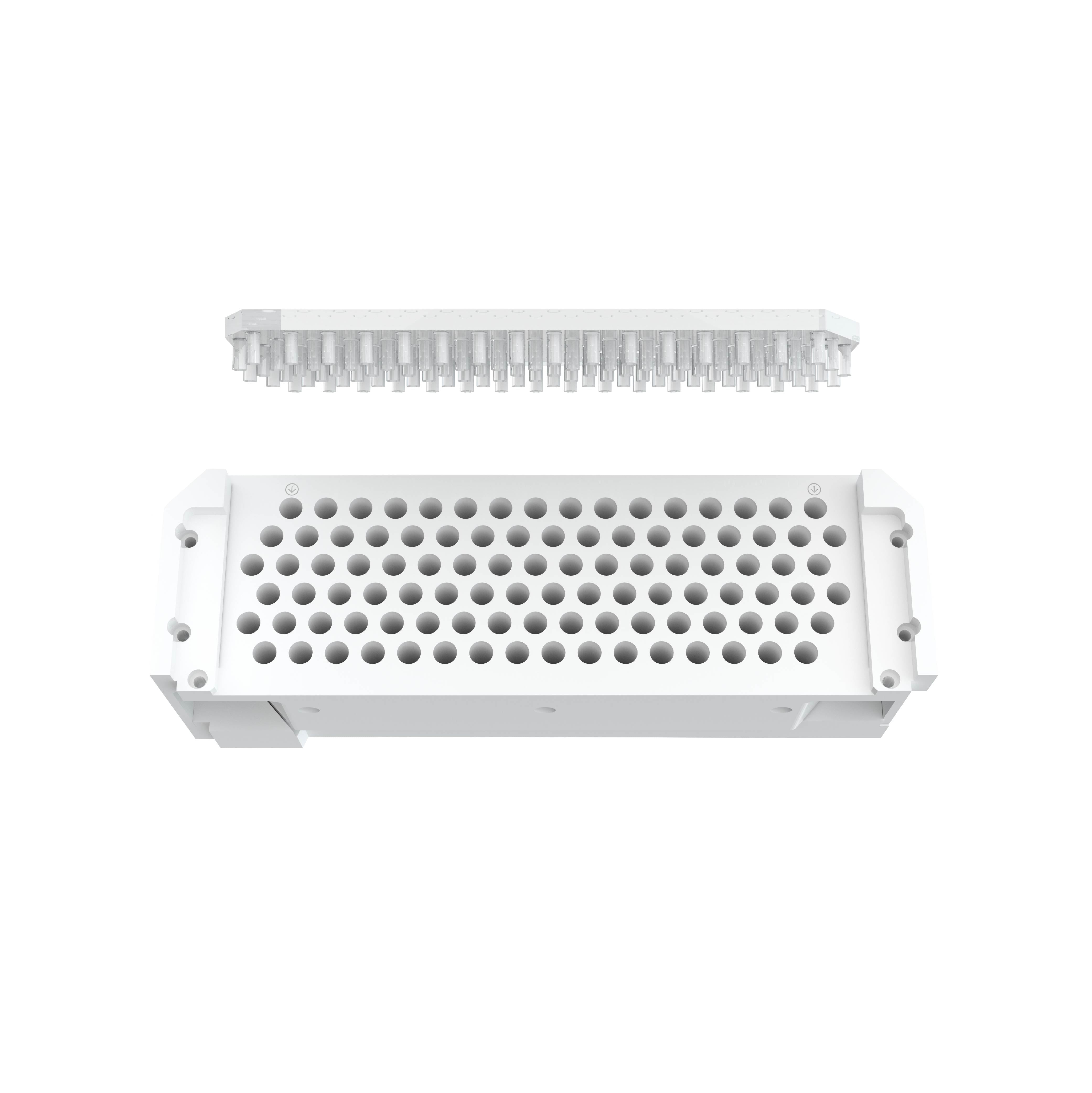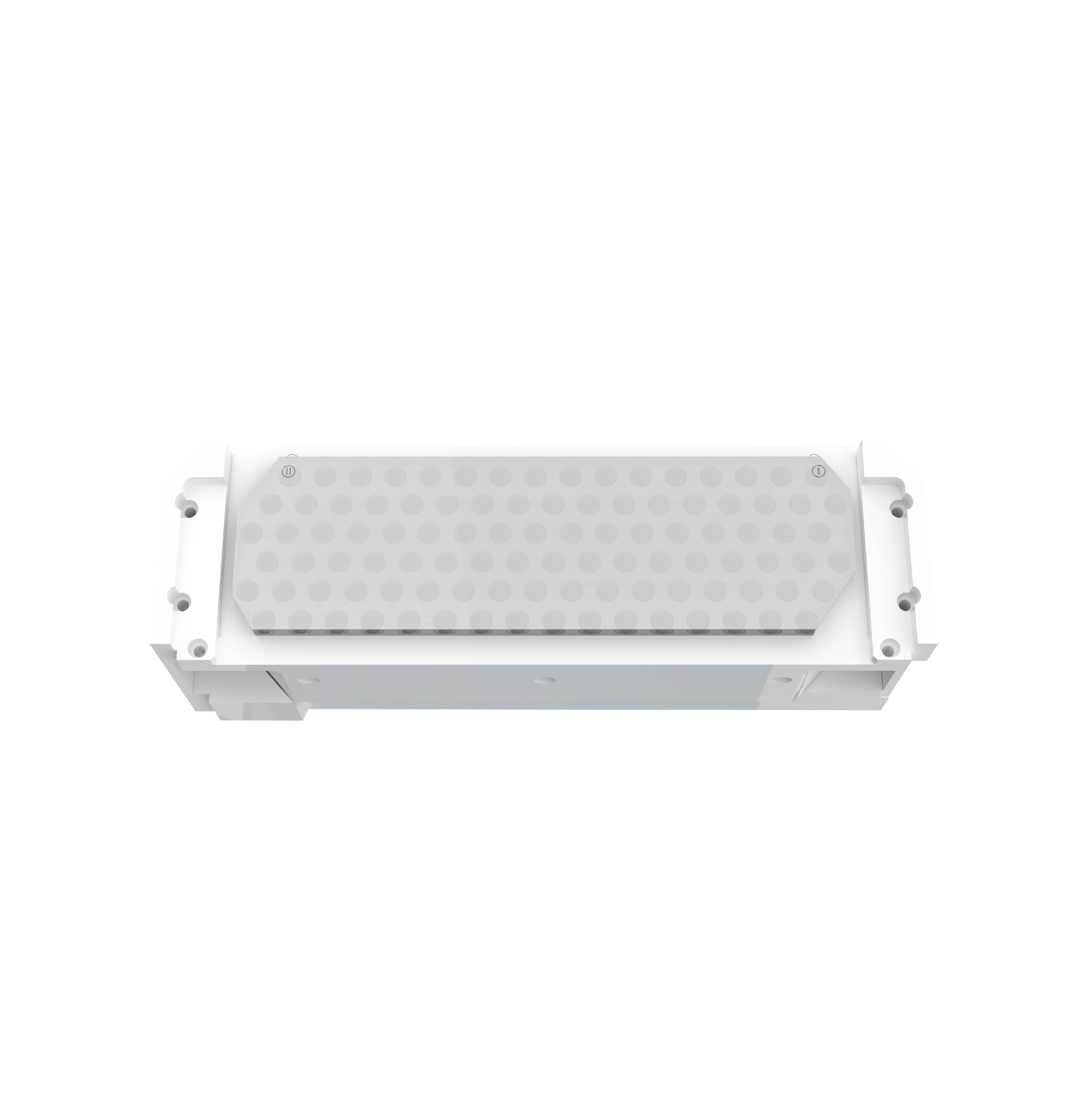 ---
Effortlessly close 100 pre-rolled cones in seconds with our NEW Knockbox Dutch Crown Device!
Please Note: The

Slender

style only works with

Futurola 98/26 and 98/30 Slender / Reefer Cones.
Let customers speak for us
FREQUENTLY ASKED
QUESTIONS
Using the Futurola Knockbox is a breeze! Here's a step-by-step guide on how to make the most of this revolutionary pre-roll production tool:

Prepare your pre-rolled cones: Ensure you have a supply of pre-rolled cones ready for filling. You can use Futurola's bulk pre-rolled cones or your own pre-rolls.
Select the appropriate attachment: The Futurola Knockbox offers various attachments to enhance your pre-roll production process. Depending on your needs, choose the attachment that suits your desired filling method. Attachments such as the Mix Tray, Filling Device, Spill Tray, Cone Loader, Unload Station, and Dutch Crown Device can streamline the process and maximize efficiency.
Load the cones into the Knockbox: Carefully place your pre-rolled cones into the designated slots or attachment of the Knockbox. Ensure that each cone is securely positioned.
Fill the cones: Once the cones are loaded, proceed to fill them with your preferred material. Use the appropriate tools and techniques provided by the chosen attachment to efficiently and evenly fill the cones.
Tap and pack: After filling the cones, gently tap the Knockbox to allow the contents to settle and close the cones tightly. This step ensures a consistent and uniform density in each pre-roll.
Unload and enjoy: Once you've completed the filling process, carefully remove the filled pre-rolled cones from the Knockbox. They're now ready to be sealed, labeled, or enjoyed right away.

Remember, practice makes perfect! Familiarize yourself with the Futurola Knockbox and its attachments to optimize your pre-roll production workflow. Should you have any specific questions or need further guidance, our dedicated support team is always here to assist you.

Enjoy the convenience, efficiency, and precision that the Futurola Knockbox brings to your pre-roll production process. Elevate your output and meet the demands of a growing market with this innovative tool designed for professionals and enthusiasts alike.
The Futurola Knockbox is a cutting-edge pre-roll production device designed to streamline and enhance your rolling experience. Here are the key specifications of this innovative tool:

Capacity: The Knockbox is available in different models, offering varying capacities to suit your production needs. Choose from the Knockbox 50, Knockbox 100, or Knockbox 300, depending on the volume of pre-rolls you wish to produce.
Construction: The Knockbox is built to last. It features a durable and sturdy construction, crafted from high-quality materials to withstand the rigors of daily use. Its robust design ensures long-lasting performance, making it an excellent investment for your pre-roll business or personal use.
Compatibility: The Knockbox is designed to work seamlessly with Futurola's pre-rolled cones. It can accommodate various sizes of Futurola pre-rolled cones, ensuring a perfect fit and efficient filling process. Additionally, the Knockbox is compatible with a range of attachments, such as the Mix Tray, Filling Kit, Spill Tray, Cone Loader, Unload Station, and Dutch Crown Filling Device, providing versatility and customization options.
Ease of use: The Knockbox is designed with user convenience in mind. Its intuitive interface and ergonomic features make it easy to operate, even for beginners. The step-by-step process allows for efficient cone loading, filling, and unloading, optimizing your production workflow and minimizing downtime.
Precision and consistency: With the Futurola Knockbox, you can expect precise and consistent results. The tool ensures uniform filling and packing of each pre-rolled cone, resulting in high-quality pre-rolls that meet your desired standards. This level of consistency enhances the smoking experience for your customers and reflects positively on your brand.
Dimensions and weight: The dimensions and weight of the Knockbox vary depending on the model. It is designed to be compact and portable, allowing for easy transportation and storage. Refer to the specific product pages of each Knockbox model for detailed dimensions and weight information.
The Futurola Knockbox is designed to work seamlessly with a wide range of pre-rolled cones, ensuring a perfect fit and efficient filling process. Here are the details about the cones that are compatible with the Futurola Knockbox:

Futurola Pre-Rolled Cones: The Knockbox is specifically designed to work with Futurola's own pre-rolled cones. These cones are crafted with precision and made from high-quality materials to deliver a consistent and enjoyable smoking experience. These pre-rolled cones fit perfectly into the Knockbox, making the filling process smooth and efficient.
Other Compatible Cones: In addition to Futurola's pre-rolled cones, the Knockbox can also be used with select pre-rolled cones from other brands. While the Knockbox is primarily designed for Futurola cones, it can accommodate various sizes and styles of compatible cones, ensuring versatility in your pre-roll production. We recommend consulting the Knockbox's user manual or contacting our customer support team to determine the compatibility of specific third-party cones with the Knockbox.

It's worth noting that the Futurola Knockbox provides the best results when used with Futurola's own pre-rolled cones. The combination of the Knockbox and Futurola cones ensures optimal performance, consistency, and efficiency in your pre-roll production process. However, should you choose to use other compatible cones, we recommend conducting a small test batch to ensure they fit securely and work well with the Knockbox's filling mechanism.
The Futurola Knockbox Filling Kit is a valuable accessory designed to enhance the filling process when using the Futurola Knockbox. Here are the key specifications of the Filling Kit:

Filling Attachment: The Filling Kit includes a specialized attachment that seamlessly integrates with the Futurola Knockbox. This attachment is designed to facilitate the precise and efficient filling of pre-rolled cones, ensuring consistent results with every use.
Cone Capacity: The Filling Kit attachment can hold a specific number of pre-rolled cones at a time, optimizing your filling process. The capacity may vary depending on the version or model of the Filling Kit. Please refer to the product documentation or contact our customer support team for the precise cone capacity of your specific Filling Kit.
Material: The Filling Kit attachment is made from durable and high-quality materials, ensuring longevity and reliability. It is crafted to withstand repeated use and the rigors of the filling process, ensuring consistent performance over time.
Ergonomic Design: The Filling Kit is ergonomically designed to provide ease of use and comfort during the filling process. It offers user-friendly features that make cone loading, filling, and unloading simple and efficient. The design helps to streamline your workflow and enhance productivity.
Compatibility: The Filling Kit is specifically designed for use with the Futurola Knockbox. It seamlessly integrates with the Knockbox, ensuring a secure fit and reliable performance. Please note that the Filling Kit is not compatible with other pre-roll production tools or devices.
Cleaning and Maintenance: The Filling Kit is designed to be easy to clean and maintain. It can be disassembled for thorough cleaning, allowing you to maintain hygiene and ensure the longevity of your Filling Kit. Please refer to the product manual or contact our customer support team for detailed cleaning instructions.

These specifications provide an overview of the Futurola Knockbox Filling Kit, highlighting its features, capacity, and compatibility. To get specific details about the Filling Kit model you own or to inquire about any additional information, our dedicated customer support team is always ready to assist you. Experience the convenience and precision that the Filling Kit brings to your pre-roll production process, and elevate your efficiency and output to new heights.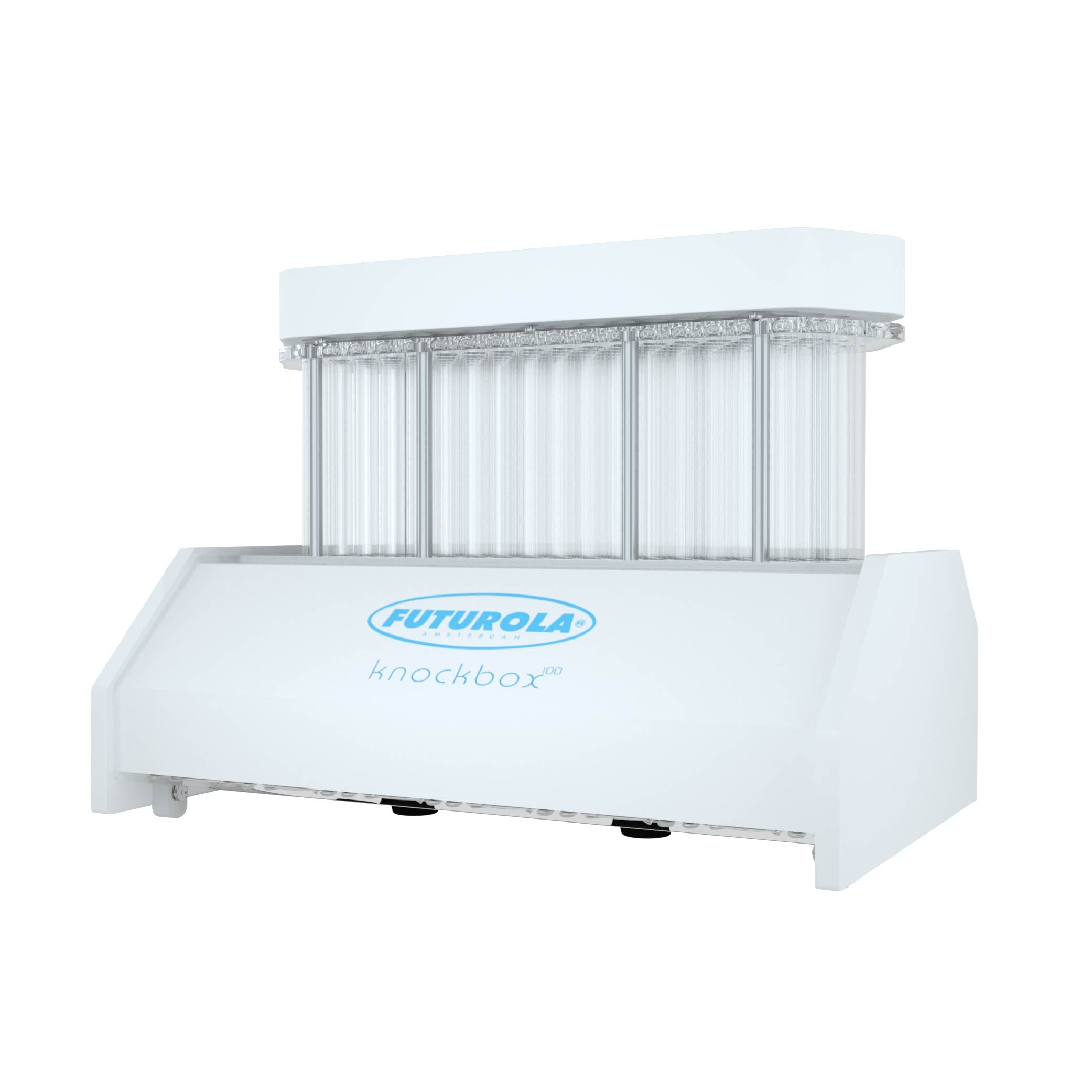 Our customer support is available Monday to Friday: 8am-4:30pm.
Average answer time: 24h
FUTUROLA KNOCKBOX 100
Is a Cone Filling Machine More Cost Effective?
Futurola Knockbox 3/100 is an industry-leading solution for making pre-rolls in substantial quantities helping your cannabis business maximize production efficiency.